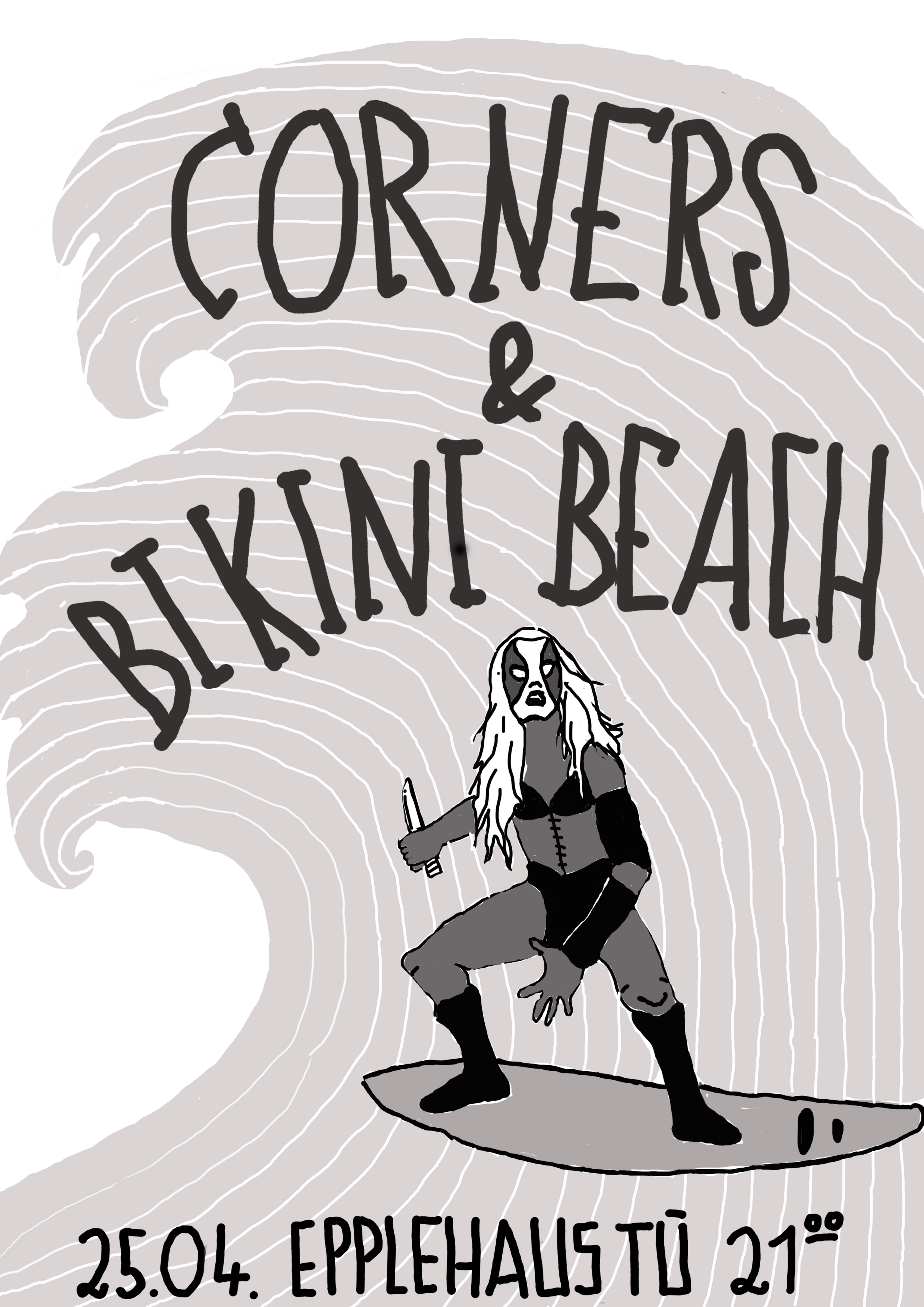 http://corners.bandcamp.com/
https://bikinibeach.bandcamp.com/
Corners (Lolipop Records) machen es einem nicht unbedingt einfach, ihren Sound zu beschreiben. Vielleicht irgendwo zwischen Birthday Party, Link Wray und Ty Segall, Aber genug des Namedroppings, Corners spielen surfig, sphärischen 80s Pop/Postpunk, wie er lässiger kaum daher kommen könnte.
Bikini Beach wiederum sind eine extremst coole Lo-Fi Punk Band aus Konstanz, verbinden das Beste aus den Vivian Girls, Las Robertas und Garage aus besten Crypt-Records Zeiten.
Corners Bio:
"Originally from the San Fernando Valley and eventually relocating to Echo Park, CA, Corners began playing high-energy shows around Los Angeles in 2011. Singer and guitar player Tracy Bryant founded the band and began playing music with drummer Rick Mabery and Billy Changer on bass. Bryant and Changer met at The Smell, an important DIY community venue where music enthusiasts can really bond over similar interests…admitting that if it weren't for The Smell, they probably wouldn't be a band. The current lineup solidified when Jeff "Jeffertiti" Ramuno (Of Jeffertitis Nile/touring bassist of Father John Misty) began playing guitar and synth with the band. All four current members also connected through their shared love of Joy Division. Influenced by late 1970s punk and 1980s post-punk music and a deep fascination with the type of music made in those eras, Corners began to shift their own sound in that same direction.
Their 2012 Beyond Way release was a more surf-inspired garage rock album, while the upcoming release Maxed Out On Distractions (October 7th, 2014) is a synth-inspired post-punk album in the Internet age. Mastered by Dave Cooley (Silversun Pickups, MF Doom, The Black Angels, M83), album title itself is a reflection of living in the Internet age and literally not having any room in your life for more distractions. Singer Tracy Bryant explains, "The album title relates to the music in the way we approached making the album itself… blocking out everything else and focusing on making pure music, not being distracted with the constant addiction that social networking sites have become."