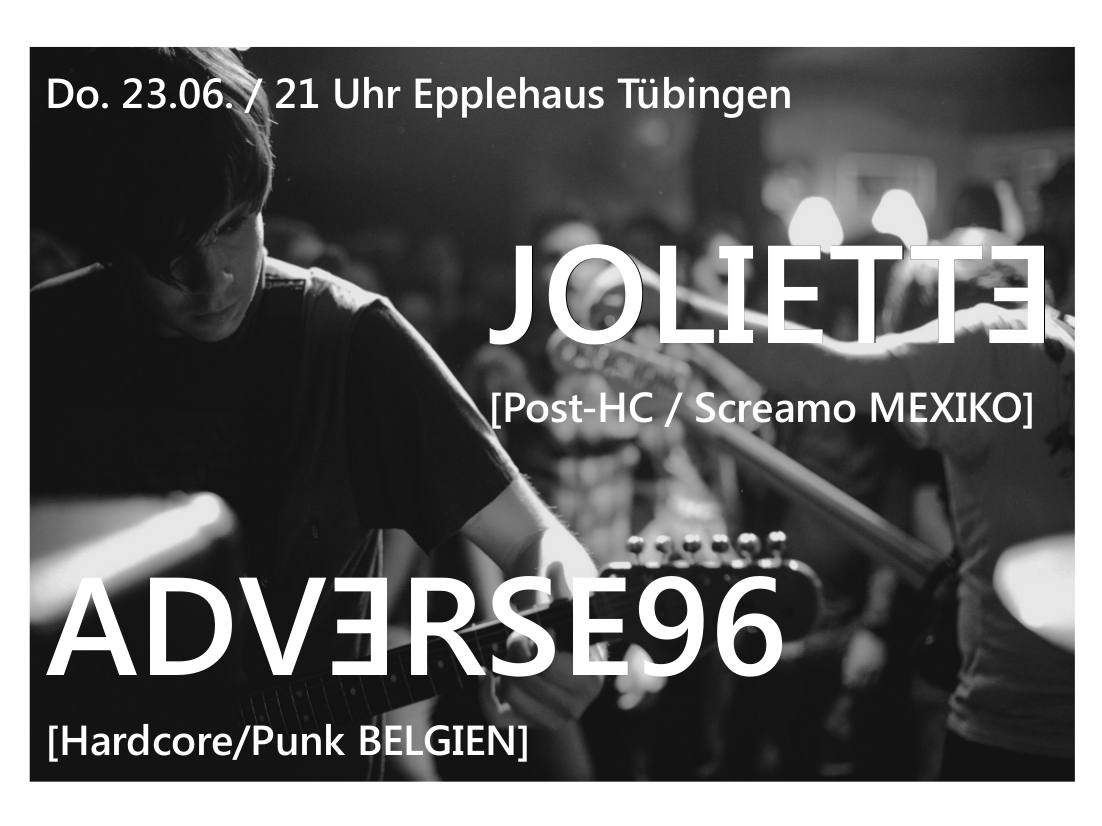 Joliette (Post-Hardcore aus Puebla, Mexiko)
Nach dem SXSW (South by Southwest) touren Joliette jetzt einige Monate quer durch Europa und zeigen was Mexiko in Sachen Post-Hardcore zu bieten hat.
Joliette sind nicht nur für die Qualität ihrer Platten und Musikvideos bekannt, sondern auch oder vielleicht sogar vor allem wegen der einzigartigen und explosiven Live-Auftritte. Wohl eine der aufregendsten Live-Bands in der Musik-Szene Mexikos!
Adverse 96 (Hardcore/Punkrock aus Liege, Belgien)
Neue Band mit Leuten von Hangin Out, Nervous Chillin, Coverhate, Bloodshot, Deviate
Sagen über sich:
Adverse96 is not just a fancy bandname, it's about the adversity we all have to face on a daily basis. The contradiction between what we used to be as adolescents (in 1996) and what we have to pretend to be nowadays.
We're all grown men, around or over the 30's, most of us have kids, we have jobs, and in order to provide our families the security they need, we had to compromise with society and the fucked up way this whole system is rolling.
In fine, we're all just back for the fun, the live vibe and the happy rehearsals we have every single week, as an exhaust of all the things we have to face during the week, kind of a therapy, not taking it too seriously as humans, but as musicians, music still straight comes from our hearts and that's where our faith is, it's as simple as that..